Chanel!

Brand new with tags, In Boutiques Now for Full Price, from the 2019 Cruise/Resort collection, this cotton blend terry tweed skirt in ivory with a black and gold waistband and black and gold CC buttons is a timeless classic. Side zipper entry.

French 40, it has a 30" waist, 40" hips, 18" long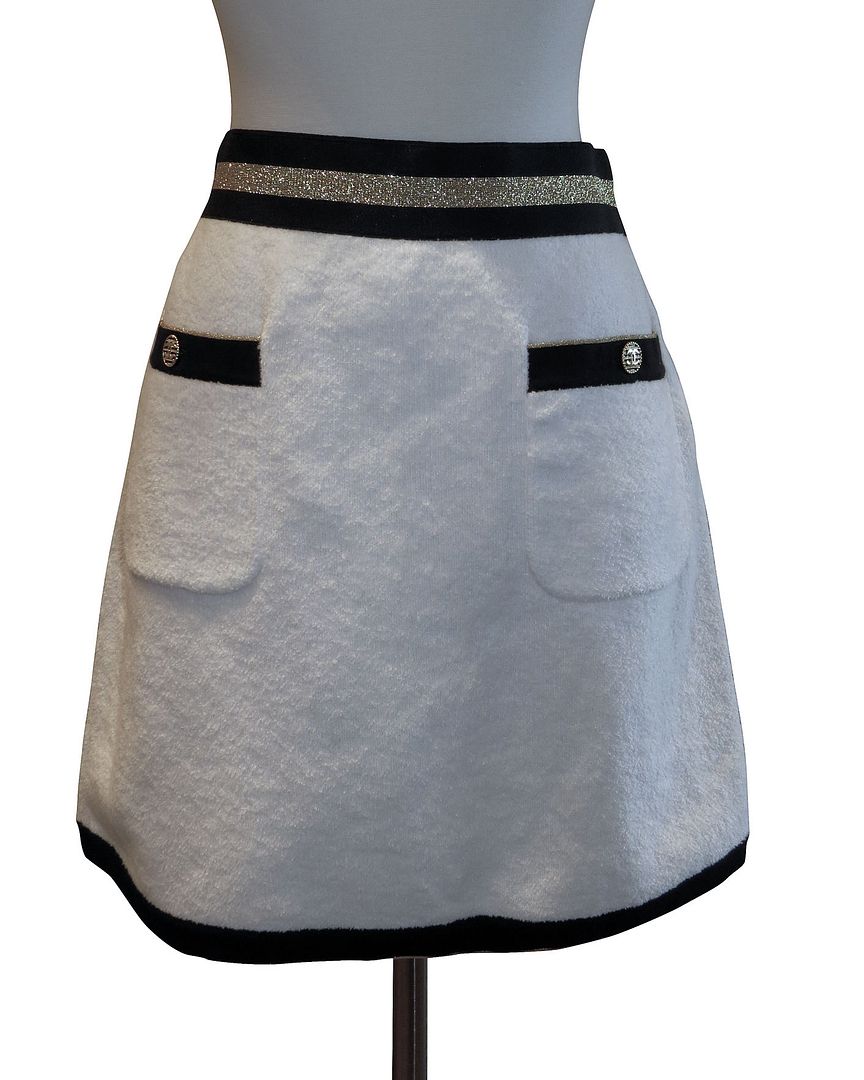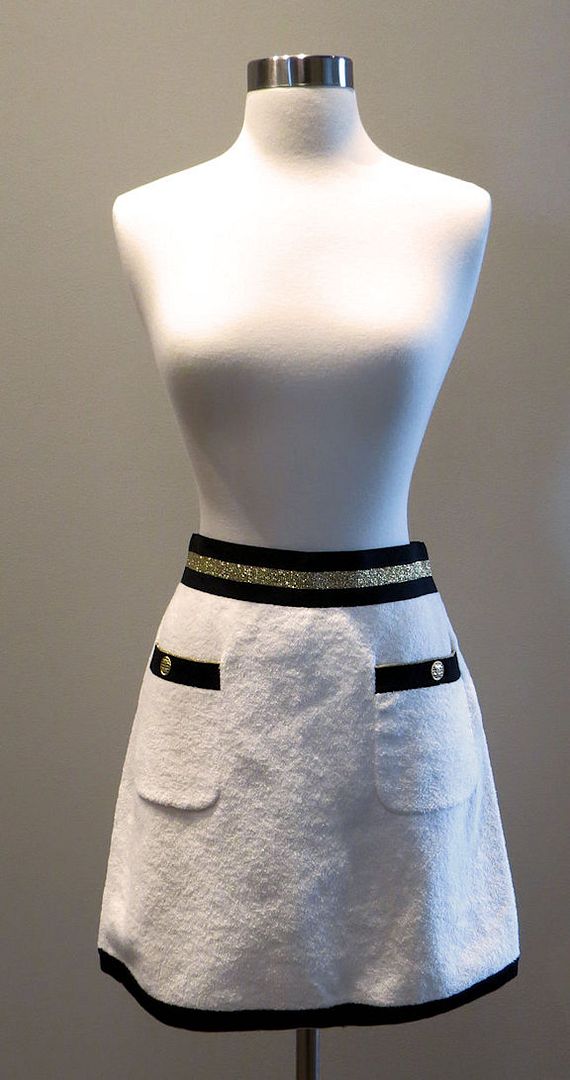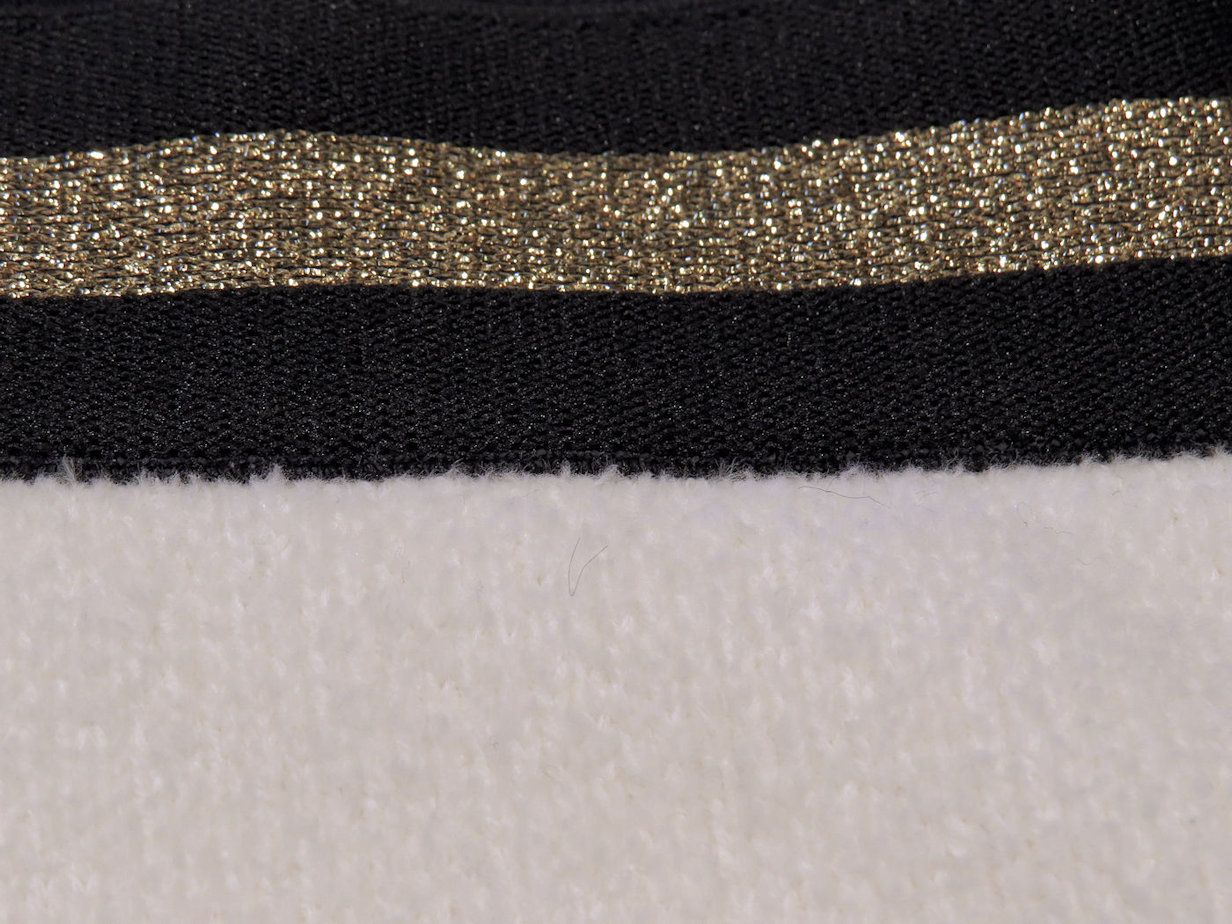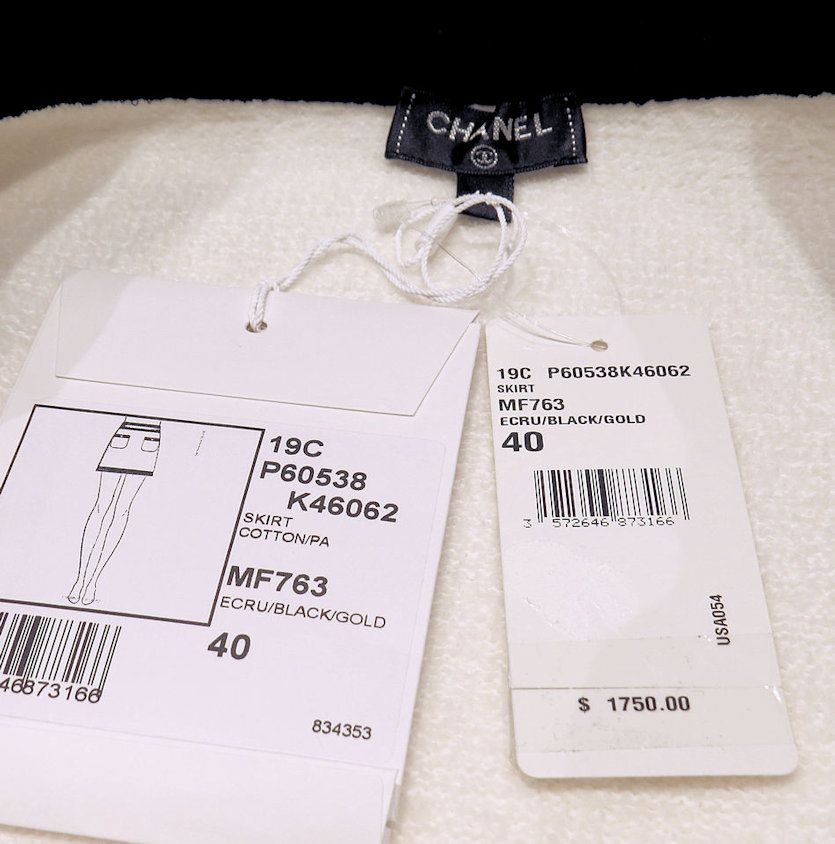 Chanel!
A SUPER RARE OPPORTUNITY to purchase a Chanel HAUTE COUTURE three piece day to night suit made by Karl Lagerfeld for a very important client.
From the 1992 Spring/Summer Haute Couture collection, this AMAZING three piece suit retailed for $32,000 at the time, would now exceed $50,000! It is EXACTLY the same suit as the first model shown below.
This is not a ready-to-wear piece, this is HAUTE COUTURE!
In MINT condition, the ensemble consists of three pieces. A long jacket made from an exquisite very lightweight wool/silk crepe in Chanel's signature quilted matelasse pattern, the jacket zips up the back with an exposed gold zipper. It has two long hip pockets. The entire jacket has Chanel's iconic gold chain wrapped buttons. The same buttons adorn each sleeve cuff.
The suit comes with two skirts. A day skirt in pleated silk chiffon and an evening skirt (as shown on the runway model) in black feathers on an organza base. BOTH ARE GORGEOUS!
The suit jacket is fully silk lined and the skirts are a whisper of fabric so that there are no bumps or bulges underneath the exquisite jacket when worn.
All pieces have the HAUTE COUTURE pointed end labels and are individually numbered underneath. Consistent with haute couture pieces, the shoulders are inset and the suit featuring handstitching and hand finished seams. ABSOLUTELY GORGEOUS construction.
The client for whom Karl Lagerfeld made this suit is a French 38 and this suit fits like a French 38 (not a small French 38, a regular to generous French 38).
The jacket has a 35" bust, 31" waist, 38" hips and is 33" long with 22" sleeves.
The night organza feather skirt has a 30" waist, 38" hips, 33" long
The day chiffon pleated skirt has a 30" waist, 38" hips, 22" long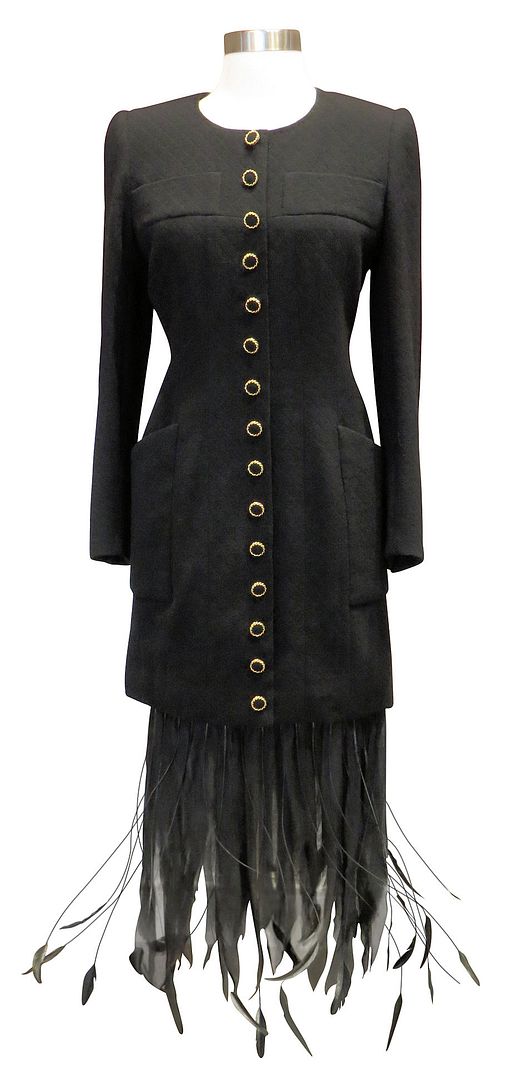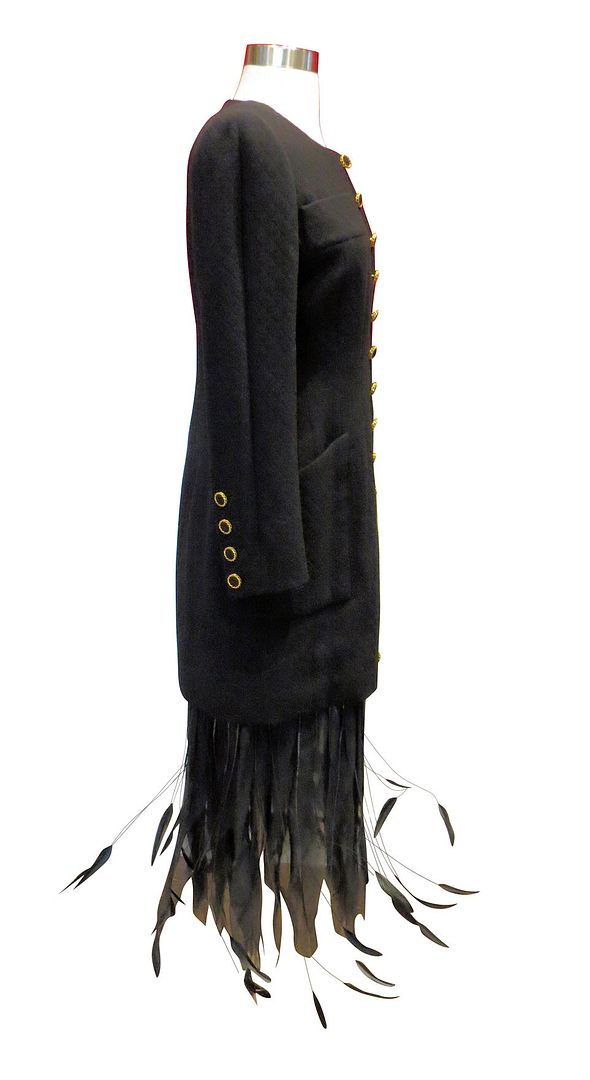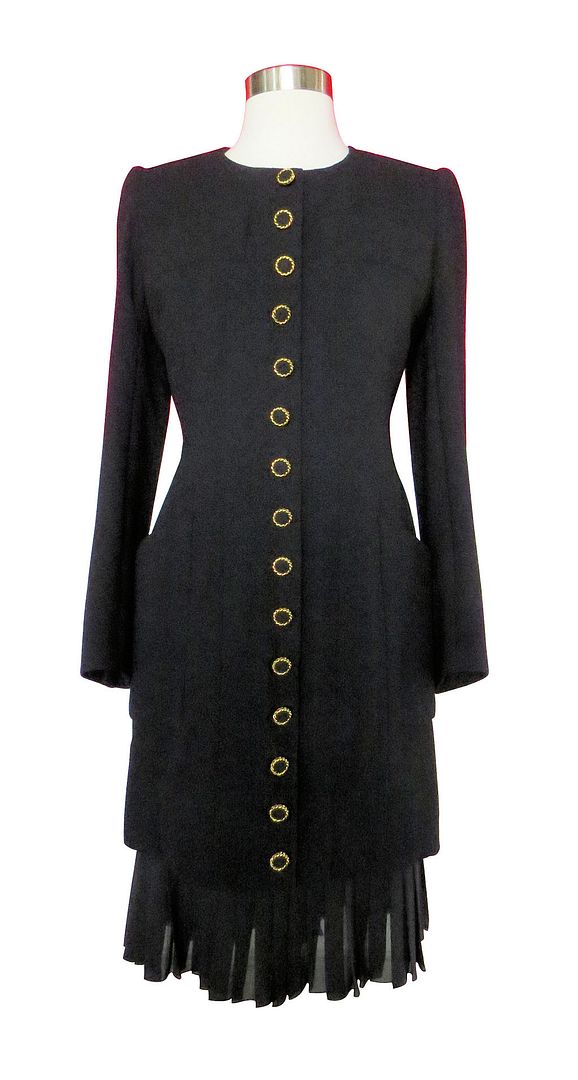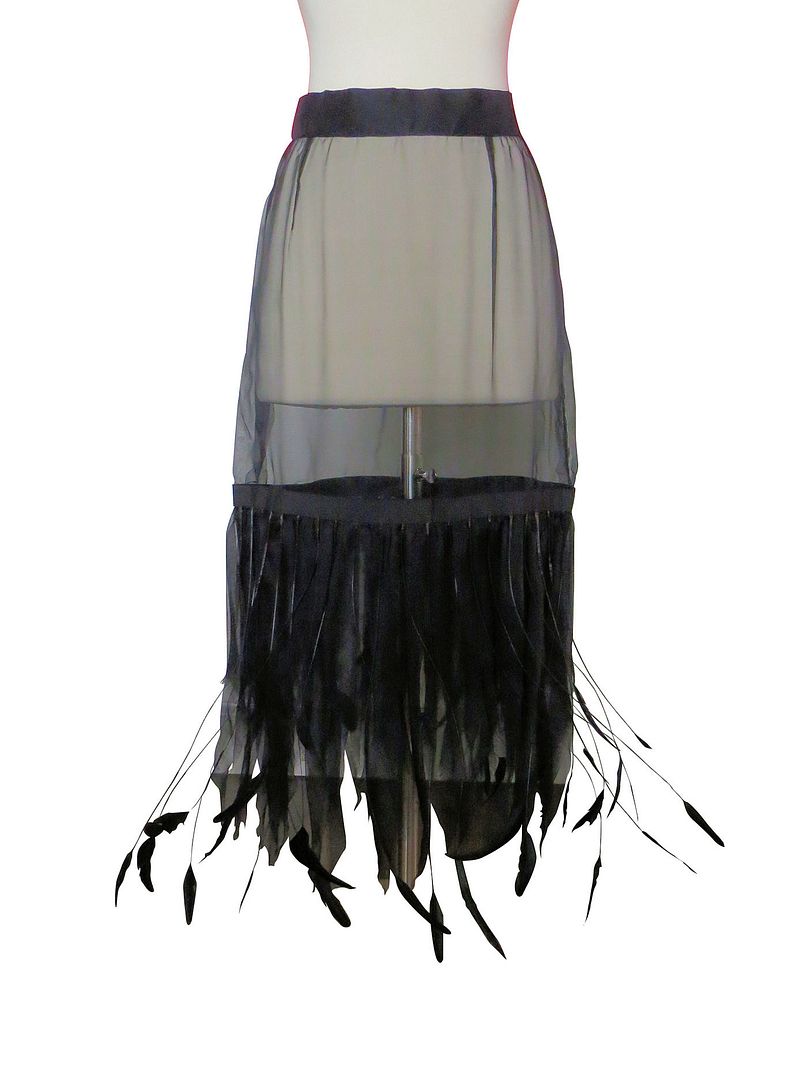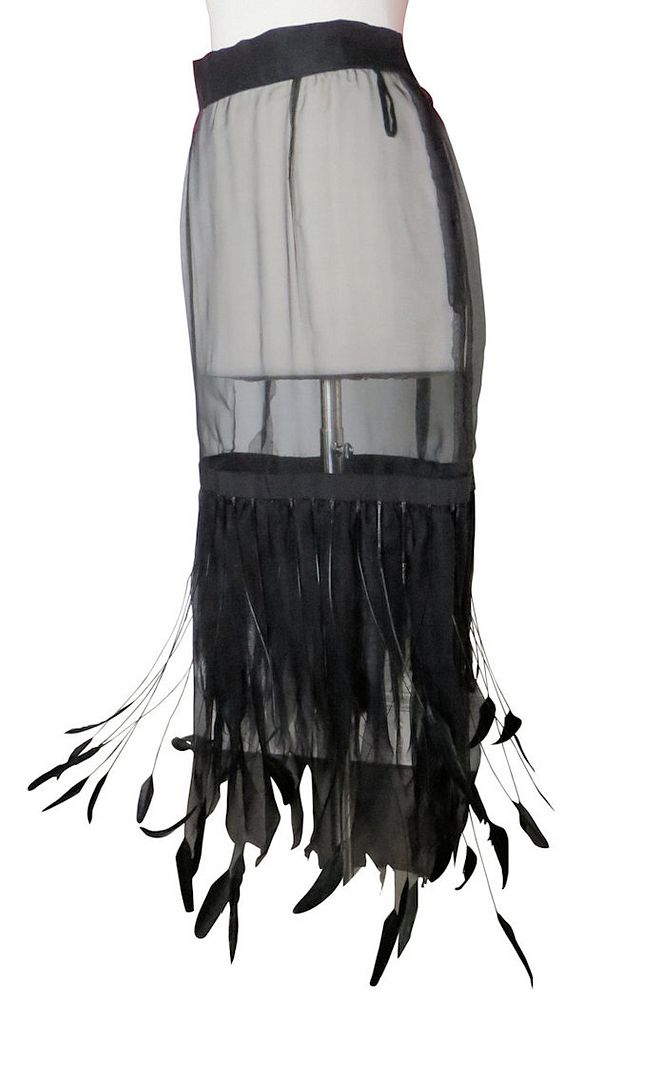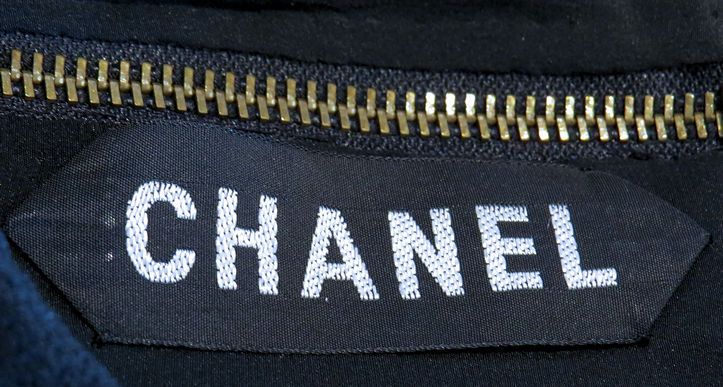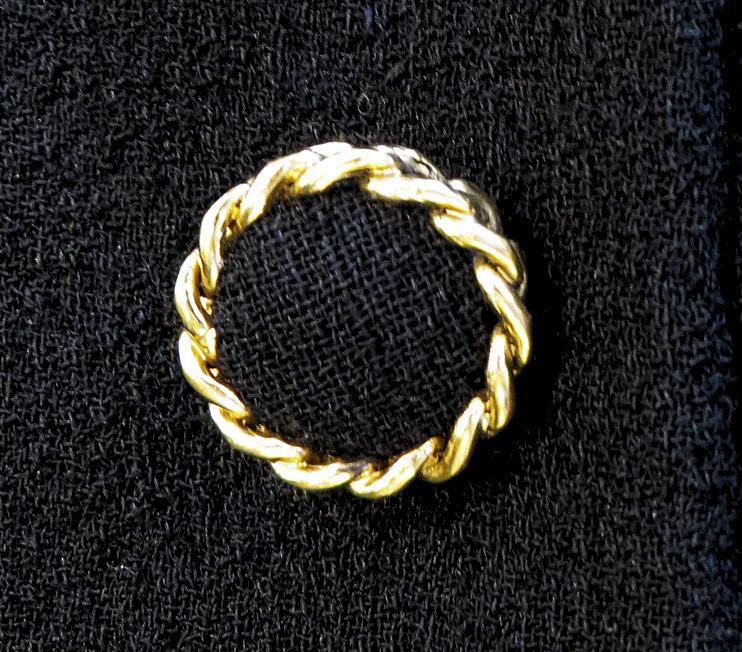 Chanel!

If you had your name on the waiting list for this coat and actually got one, you are very lucky indeed!

Without a doubt the chicest coat designed by Kaiser Karl in decades, this black boiled wool, fully silk lined number has black silk satin ribbon trim and a huge black silk satin bow at the neck.

It is the perfect topper over every little black dress you own!

French 38, it measures:
15" shoulders, 18" sleeves, 36" bust, 34" waist, 37" hips, 36" long

J. Mendel!

Authentic DIVINE sheared black mink and chinchilla coat from J. Mendel. Purchased for $35K at Bergdorf Goodman, hand selected by Gilles Mendel himself for its owner, this coat is two years old, in super mint as new condition, kept in cold storage since its purchase.

Lightweight and soft as a cloud, it is totally versatile, elegant over a cocktail dress, and chic and sophisticated when paired with jeans and a t-shirt. Fully double lined in silk satin overlaid with a hot pink and white tie-dye chiffon, it has black ribbon trim detailing making the inside as gorgeous as the exterior. Closes across the front with two hidden grosgrain fur hooks and has two hidden side entry pockets.

The coat fits a US4/French 36 perfectly with 16" shoulders, 26" sleeves, 36" bust, 39" hips, 35" long.

Chanel!

Brand new with tags, from the 08A Paris Londres runway collection, this $18,000 (with tax) black cashmere/wool blend princess coat/dress is the most stunning piece of the entire collection.

The structure and detailing are all HAUTE COUTURE from the structure of the double sided origami ribbon collar to the hidden origami detailed pockets, to the multi-paneled cut that hangs absolutely perfectly!

TIMELESS, totally refined, and Chanel Luxe, the coat zips up the front and can be worn as a coat or a dress.

SO CHIC!

French 40, it works for a French 38 too with 15.5" shoulders, 25" sleeves, 35" bust, 31" waist, 42" hips, 38" long

Chanel!

Brand new with tags, these AMAZING Haute couture-esque boots are from Chanel's 2017 pre-fall collection retailing for $2300 with tax.

Black suede over the knee boots, they are embellished with silk and grosgrain ribbons woven throughout including the heel.

CC stitched into the round toe, they are DIVINE!

Euro 40.5, they fit true to size, best for a US 9.5 and have a 4.25" heel, 22" shaft, calf circumference 16".

Chanel!

Own a piece of history!

From Karl Lagerfeld's first collection for Chanel, 1983, In MINT CONDITION, this comete brooch/pendant is in the iconic diamond comet (comete) shape that has been one of the two motifs (the other is the camellia) that Chanel has used from Coco Chanel's time throughout the reign of Karl Lagerfeld.

Set in goldtone braided metal, the comete is composed of 61 crystals of varying sizes, the largest one in the center. There is the standard brooch pin/clasp and also a hook so that the brooch may be worn on a chain as a necklace or used as a necklace enhancer.

Signed Chanel and dated 1983, this is a RARE OPPORTUNITY to own a piece of Chanel and Karl Lagerfeld history.

Dimensions: 3 1/4" diameter x 1/2" depth.

Signature: CHANEL® ©1983

Metal Finish: High Polish

Hermès!

Authentic Hermès SUPER RARE Ostrich White Bus bag/tote in Bleu de Prusse with tone on tone stitching, silver Palladium zipper pull and signature, dual rolled top handles, contrast stitching, exterior pocket, tonal leather lining, dual pockets at interior walls; one with zip closure and open top. Blind stamped E.

In excellent pre-owned condition inside and out, top to bottom with a single minor small darkened area on the bottom. (See photos.)

Comes in the sleeper, the bag measures:

Handle Drop: 4.5"Height: 11.5"Width: 15.5"Depth: 5.5"

Chanel!

Never worn with tags, this special order $11,300 (with tax)SUPER CHIC and SOPHISTICATED extremely feminine pale blush beige (flesh color with salmon pink undertones) silk Georgette dress trimmed in rich black Mink cascading from waist to hips in layers, each layer trimmed in Mink, buttoning down the back with CC signed pearl buttons. The same buttons adorn the back of each sleeve.

Fully silk lined, this is a MASTERPIECE by Karl Lagerfeld. Brand new with tags, it was a limited production piece available by special order only and impossible to get!

French 38, it has 15" shoulders, 25.5" sleeves, 34" bust, 31" waist, 44" hips, 37" long

SPECTACULAR $70,000 Tahitian South Sea pearl necklace from Kazanjian Brothers Beverly Hills, owner of the "Crown jewels of America" now residing in the White House Oval Office. Informatin on Kazanjian Bros. can be found at their website:

http://www.kazanjianbros.com/

Young, sophisticated, chic, very rare Tahitian natural unenhanced pearls in multi shades platinum to dark grey to black with peacock overtones and fine luster graduating in size from 12mm to 14.5mm with an 18K white gold diamond ball clasp with approximately 2.8 carats of diamonds.

Can be worn opera length or doubled at the neck.

SO SPECIAL!

Comes in the presentation case with original letters of appraisal.

Chanel!

From Chanel's Fine Jewelry Mademoiselle collection comes this 18K white gold & diamond "Profil de Camélia" charm bracelet. One of the most highly coveted pieces of the Mademoiselle collection, an homage to Coco Chanel herself, it is now retired and was IMPOSSIBLE to find even when first created as only a very few Chanel Boutiques carry the Fine Jewelry line and this particular bracelet is the rarest of the rare in that the actual bracelet itself has diamond links. 99.9% of the Chanel charm bracelets that you will see DID NOT have diamond links in the bracelet. The diamond link bracelets were much more expensive and limited to the Rue Cambon Boutique in Paris and less than a handful of Boutiques in the world.

The bracelet itself is a stand alone piece with two symbols intertwined, Coco's favorite flower, the iconic Camelia, interlocking with endless destiny, the unbroken circle, in this case each of the circles in full diamond pave. It is signed Chanel, hallmarked, numbered and has the 750 present for 18K gold.

There are five white gold, white gold/diamond charms attached. They have traditional lobster claw clasps and are easily removable if you want to wear the bracelet without the charms. All of the charms are Chanel signed and hallmarked 18K gold and carry the individual serial number assigned by Chanel.

The total carat weight is approximately 3 carats of E/F color VS/VVS clarity diamonds, all original Chanel not after market. The bracelet weighs 44.3 grams and is 7.5" long end to end working for a wrist up to 6.75" in diameter. The camellia links are 10.85mm wide and the diamond circle links are 10.25mm wide.

IN SUPER MINT condition, in the Chanel presentation box.

Tiffany!

Vintage 18K Yellow Gold and Akoya Pearl star ear clips made by Tiffany.

Dated 1995, signed Tiffany with the date and 750 for 18K gold, they are SUPER CHIC and retailed for $2100 over twenty years ago, likely double that now.

Each 18K Yellow Gold star has as its center a 7MM creamy white Akoya cultured saltwater pearl (the same pearl as used by MikiMoto). The earrings measure .75" x .75" from end to end and have a clip on back. (A post could be easily added if desired.)

In MINT condition in the Tiffany pouch.

Van Cleef & Arpels!

In MINT condition, these Van Cleef & Arpels "vintage Alhambra" earrings are highly coveted. 18K yellow gold with mother of pearl centers, they weigh approximately 8.1 grams and retail for over $4000 with tax. Hallmarked, stamped, and carrying the VCA individual serial number, they are elegant and sophisticaed and part of Van Cleef & Arpels' most popular collection, the vintage Alhambra collection.

They come in the VCA green leather presentation box and are guaranteed to be authentic.